By James
As a big fan of TV, I think that the best aspect of the DVD revolution over the past ten years has been the increased access to the complete series of TV shows from all eras. On VHS, most TV series received one or two Best-of video compilations, allowing me as a kid to see certain classic episodes of old shows. Now nearly every TV show is on DVD, including many shows that arguably have no fan base (Cathouse: The Complete Series, anyone?) while many classics are still unavailable. The following is a small list of many shows I love that are out of print or unavailable along with several shows I've never seen but would love to catch this time around on DVD.
Get a Life (1990-1992)


This sitcom, starring and created by Chris Elliott, aired on Fox for two seasons before being canceled after a meager 35 episodes. Despite its short run, it became a cult hit and seen as one of the most innovative and absurd sitcoms of all time. (The show revolved around Chris, an early thirties slacker paperboy who still lives with his parents.) In what other sitcom does the main character die in 12 episodes? The show had a notable writing staff including Charlie Kaufman and Bob Odenkirk.
In 2000 and 2002, Rhino Video released Best-of DVDs for the show that only included 8 episodes. The DVDs are currently out of print. Elliott claims that the DVD has been finished but its being held up by legal issues (possibly regarding the show's theme song, "Stand" by R.E.M.) but I say hooey. Let's get this thing out so I can finally see the rest of it. I've only seen the best of DVDs and need more!!
The State (1993-1995)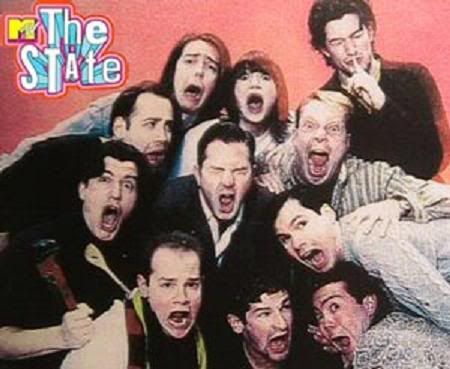 For a sketch comedy show that has spun off so many great films and shows in the past ten years (Reno 911!, Stella, Wet Hot American Summer, The Ten), MTV is still yet to release the series, which ran for 26 episodes over three seasons, onto DVD. The DVD release has been postponed and pushed back multiple times. The cast recorded commentaries and bonus features have been finished. Until the DVD release, you can check out the first season
streaming for free
on MTV.com
The Tom Green Show (1999-2000)
I want a complete series DVD of all the MTV episodes, including the specials (Monica Lewinsky Special and the Peabody Award nominated Cancer Special). Tom Green is hilarious and that's that.
The Larry Sanders Show -- Seasons Two through Six
Sony Pictures released the first season of the HBO classic in 2002 and rereleased it to coincide with the release of last year's excellent DVD, "Not Just the Best of the Larry Sanders Show" which compiled 23 of the series' best episodes. I've thoroughly enjoyed these two releases but I want whats beyond "Not Just the Best" -- the whole series. The show had so many great episodes throughout its run and its about time it gets a release. Until then, the show is easy to find on YouTube and in decent quality.
Upright Citizens Brigade - Season Three DVD
Comedy Central released season one on DVD in 2003 and season two in 2007. I'm not waiting another four years. I call upon them to release season three along with a Complete Series set (much like the excellent one they put together for Strangers with Candy).
The Adventures of Pete and Pete - Season Three DVD
Much like UCB, the first two seasons of this show are available on DVD but we still need the third and final season.
Now here are two series that although I never saw have always intrigued me.
Fallen Angels (1993 to 1995)
Fallen Angels was a neo-noir Showtime series that ran for two seasons (15 episodes) . Here's a quote from
the show's Wikipedia entry
: "The television program was produced using top-notch directors, well-known hard-boiled fiction writers, experienced screenplay writers, inventive cinematographers (who recreated the
film noir
images), and actors. The art direction gave the series the ambiance and historical look required of a show devoted to
noir
set in Los Angeles."
Episodes were directed by actors like Tom Cruise, Tom Hanks, & Kiefer Sutherland as well as notable directors like Steven Soderbergh, Alfonso Cuarón, Peter Bogdanovich, & John Dahl. Cineamtographer Emmanuel Lubezki did camera-work on two episodes. Everything about this screams "Why haven't I seen it yet?"
China Beach (1988-1991)
The show revolved around the Vietnam War and was a critically lauded show that suffered poor ratings. I don't know much about it, but have always heard good things.